THis weekend I picked up one of these 2 gallong pesticide sprayers at Home Despot. $20, I bought the neon yellow Ortho version. The pressure is very good, more than enough to do the job. You can adjust the valve to a fine spray mist or a more solid stream.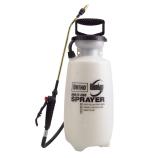 http://www.lowes.com/lowes/lkn?action=productDetail&productId=75887-1306-190164&lpage=none
I added 2 ounces of Optimum No-Rinse $13 to the pesticide spryaer (1 ounce per gallon of water). No-Rinse lubricates the paint surface and clears away dirt and debris without marring. I thoroughly wet down each panel
http://www.detailcity.com/optimum-no-rinse-wash-shine-32-ounce.html
and with one small one quart bucket of clean Rinse water and my Sea Sponge
I wiped in the direction of the wind for each panel. Dunked the sponge in the bucket and squeezed out all the dirt. Chased it with a damp waffle weave.
http://autogeek.net/natseaspon.html
after cleaning the paint I resused the rinse bucket water and the reamaining
Water in the sprayer to clean the wheels and wheel wells. This $10 Meguiar's wheel face brush is a must have.
http://www.autopia-carcare.com/meg-x-1020.html
Follow up by Spraying each panel with a quick detailer (I use FK 146) and wiping clean with a MF or waffle weave to remove any water spots.
http://poorboysworld.com/microfiber.htm
Had the whole car and wheels washed without dealing with a hose.
Its enviromentally friendly and I did a much less swirl inducing job the car
wash place around the corner.