Wayne's 101 book describes the difficulty of detaching the power steering return hose. You can't reach it and you can't photograph it - that is how buried it is!
Here is a solution that worked for me.
1.Separate the hose under the drivers side floor.Detach from rubber/plastic clamp and allow to drain and hang down.Do not loose the special fitting parts from the dangling end!
2. Follow the hose up inside the inner fender /engine area.You will find a constant tension spring clamp where the hard plastic line transitions back to a hose. You need to open and slide that clamp up the hose. But you can't reach it because the stupid ears on the clamp face the body and no tool would fit in there.
3. Drop down a few inches and you'll find the two p/s lines secured to the body in a rubber grommet with a large steel clip. Remove this big spring-steel clip and pull the line down through the large hole .Now you can reach the constant tension clamp more easily. Wayne describes separating the hose from the plastic hard line as requiring force and leverage.In my case,once the tension on the clamp was relieved ,the hard line pulled out easily. The barb that Wayne describes is not a sharp ,huge thing -it is small and smooth so the hose slides off easily. The attached photos show use of needle nose locking pliers to release the clamp.The correct tool would not fit !!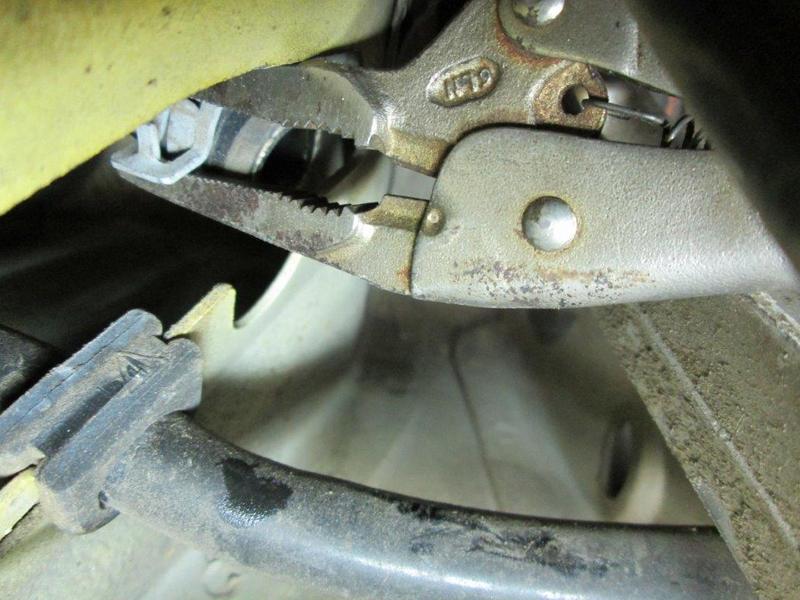 I hope this helps others who follow.