I recently got a set of used Tarett front camber plates and there was a decent amount of play in the spherical bearing, it was easy to move around (which isn't necessarily bad) but also there was play in the bearing (which is bad). I spoke with Ira at Tarett and he recommended that I install new spherical bearings into the plates. Turns out, it wasn't that expensive. So if you are thinking about getting an older set of camber plates but are worried that the bearings are worn out, they aren't that difficult or expensive to replace.
Taking out the old bearing
To take out the old bearing, first undo the 5 small screws, using a 3mm allen wrench. I tried using my small handheld set, but it didn't have enough torque, so I got out my socket set.
Once these are removed, the retaining cap can be removed. I was able to twist this off by hand, it shouldn't be on there too tight.
Here's a close up of the spherical bearing in the camber plate, with the retaining cap removed.
I was able to push this out using my thumb on one of the plates, and on the other one I had to tap it out with a punch and a rubber mallet. Once removed it looks like this.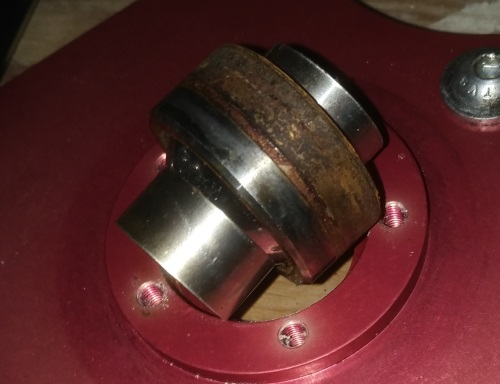 There are two spacers; one on each end of the bearing, that need to be removed. I tapped them off using a punch and a rubber mallet, there is a gap in between the spacers that you can put your punch on.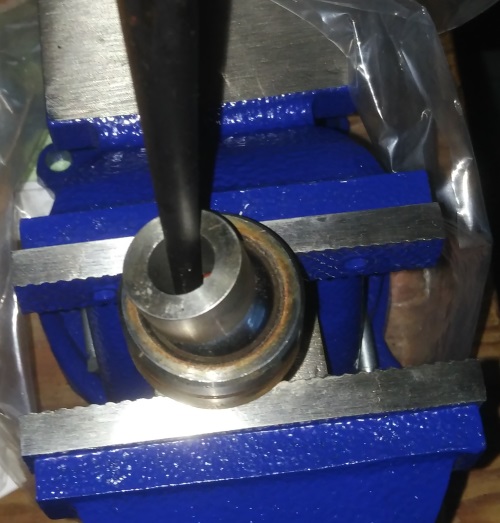 With one spacer removed, you can see the other one better.
Once both spacers are tapped off, it should look like this:
The bearing
Here is the bearing by itself, removed from the plate and with the two spacers removed.
The markings on the bearing say
FK USA COM14T
After talking with IRA and also the folks at FK, I have determined that the bearing is this one:
FK Bearings Commercial Series
The COM14 is the size, and T means it is teflon lined.
There are 3 torque specifications available for this bearing:
Torque Specs
The bearing used in the camber plates is the F1 spec.
These are on sale from places like summit racing under part number fkb-com14t-f1 for around $10.00
https://www.summitracing.com/parts/fkb-com14t-f1
I bought mine from Tarett for a few $$$ more for a couple of reasons, mainly that I wanted to be absolutely sure to get the right ones, and also I hadn't learned the information above before I ordered them. Ira is good people and has helped me a lot and given great customer service, so if he makes a few extra bucks on reselling a bearing, that is fine with me

They are supposed to get here in around a week (UPS ground from CA to FL) so when they do I will finish up this DIY.