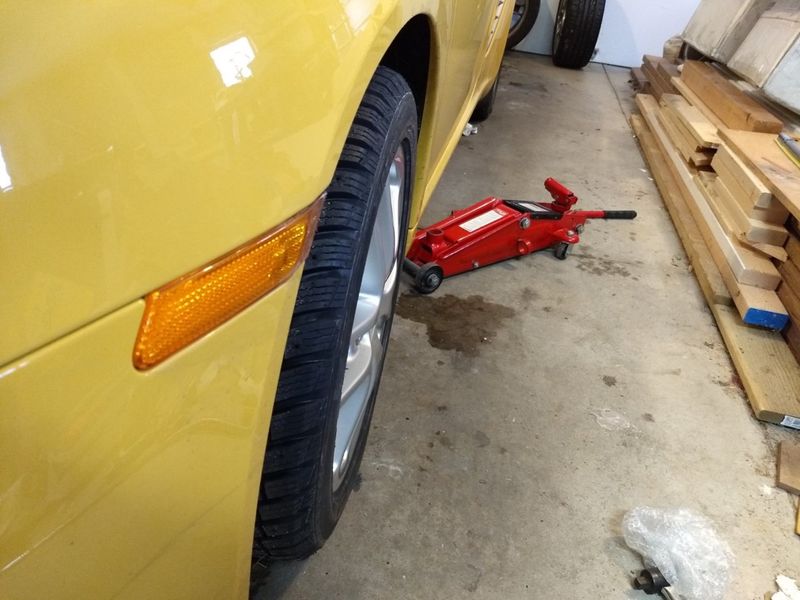 So, I have the snow tires installed. I was going to get General's but they
were out of stock so I settled on Uniroyal Tiger Paws. I doubt I'll put on
a thousand miles this winter so I think the low cost tires will be fine.
Tire Rack has a good tutorial on snow tires and recommends going down a size or 2
for snow tires. Also narrower is better. Those wide rear tires are like skis.
The used wheels I bought are
6.5x17 et 55
PN 987-362-112-06
Tires: 205/50/17 Dia: 25.1"
8x17 et 40
PN 987-362-126-01
Tires: 225/50/17 Dia: 25.9"
Regular tires are
235/35/19 Dia: 25.5"
265/35/19 Dia: 26.3"
Both snow tires are .4" smaller, not a real problem.
I put 15mm wheel spacers on the front tires to clear the calipers.
The outside of the tires are now flush with the fender as were the regular tires.
I did not put spacers on the rear tires so they are in some from the rear fenders. I
may rethink this after driving for awhile.
I installed Oro-Tek OTI-002A TPMS units. They were inexpensive on ebay, $77 for 4, and had decent reviews and did not require programming. I was pretty hesitant at the low price, but it turned out good so far.
They were recognized and after the learning cycle was finally finished did display tire pressure. Message then came up to change TPC settings for new tires installed. The procedure is clearly shown in the manual. For some reason my display let me choose between summer and winter tires, but I did not get the option shown in the manual to choose among 17,18, or 19. So now the computer knows I have winter tires, but not the size. After making the selections, it went through the learning procedure again. That takes quite a bit of driving before finishing. The pressure indicators seem to be working fine. The speedometer though is an additional mph off. I have a Garmin gps and it used to indicate my actual speed was 2 mph lower than the digital display. Pretty typical. Now with the 17" snows it shows 2 to 3 mph difference.
Not sure why I don't have the tire size option in the settings.
I've driven the new snows thru some moderate snow, nothing deep, and they responded well. I feel confident I can venture out in the snow if needed. I don't plan on doing that very often. The handling is fine, a little different, not sure how to describe it but I won't be driving it like I stole it, but I will get through the winter.
Does anyone one know how to add tire sizes to the TPC settings?
I've a feeling that's a dealer only option.
Otherwise I'm good to go until the end of March. I hope, never can tell in Wisconsin.
Link to tpms units:

https://www.ebay.com/itm/TPMS-Fit-BMW-Audi-VW-Mercedes-Benz-Ram-Acura-Jeep-Mercedes-Porsche-x4/132681618430
amazon:
https://www.amazon.com/ORO-Tek-OTI-002A-TPMS-Sensor/dp/B00Q8L89JO/ref=sr_1_1?keywords=orotek-002a&qid=1547845730&sr=8-1