I searched around and couldn't find anyone else doing this, so I thought I'd share the idea.
It seems to be a common problem where the elastic wears out in the top, resulting in sides that fall outside the rain channels when the top closes. I've read this can result in damage to the top, and it definitely makes a big difference with wind noise on the interstate when the top is not in those channels.
Numerous folks have bought a piece of elastic at the store and stitched it in to replace the old elastic. Others have loosened the screw and moved the screw to a different slot in the elastic.
Here's another way to do it, and it's literally a 5 minute job that involves no sewing and no fumbling around with hard-to-reach screws.
Just like any other fix for this problem, you will put the top halfway down so you can access the elastic strap in question, and then undo the two velcro tabs on the headliner so you can slip your hand behind the headliner.
Now, get yourself some of these.
BED BANDS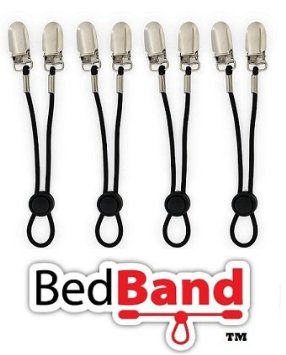 It's an adjustable elastic cord that has clamps on both ends, typically used for holding sheets to the corners of a mattress.
I clamped one end as close as possible to where the old elastic attaches to the screw on the post. Then I clamped the other end about halfway up the fabric triangle that is sewn to the top fabric. The original elastic was left in place. Then I adjusted the new elastic cord so that the extra/unused tail loop was about 3.5 inches long (7 inches doubled over on itself).
The top works great every time now. For $13 bucks you can get two pair of these cords. If the cords eventually get weak, you can either tighten them up a bit with the adjuster or just replace them with the extra pair.
I also tried a pair of mitten clips, like kids use to attach mittens to their coat sleeves. However, they did not have much stretch and were much less versatile than the mattress straps.