I know this topic has been covered
ad nauseum
, but often without much in the line of photos for this particular technique, so I thought I'd show folks what I did for jacking up the Box for placement on jack stands. I should mention that at least one other forum member (
Bobiam
, I believe it was) discussed this approach, so it's not my idea---again, I'm mostly just adding pics.
I started with a length of stock 4x4 and, using a chop saw, cut off a 9" piece. Even driving the Boxster up on a piece of 2x10, I still couldn't get my jack (with the 4x4) under the alternate jack point, so (using a table saw) I ripped off about 1 ½" from the 9" piece of 4x4. So, it's no longer exactly 4x4, but it's still plenty strong. Depending on your jack, you may or may not need to do this.
Then, using the table saw, I cut a centered channel the length of the piece, approximately 3/8" wide by 3/16" deep. Because of some plastic molding under the car that the wood was going to hit at one of the jack points, I also did a 45 degree bevel on the back side. Both it and the channel are visible here:
I then took my hole-cutting bit (see photos) and set it to cut a shallow hole slightly larger than the size of the top of my jack. I went in about 1/4" deep. (That bit is handy to have, BTW, because it's infinitely variable in size from 3/8" to 3" and---unlike your standard hole saw--- it removes wood between the center of the hole and the perimeter as you go, even if you only drill a short distance into the wood. I've had it for years, don't remember where I got it. Sears would probably have it, or a good Ace Hardware store.)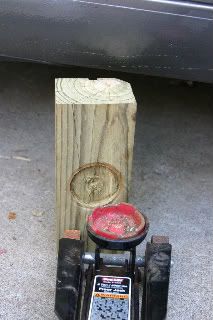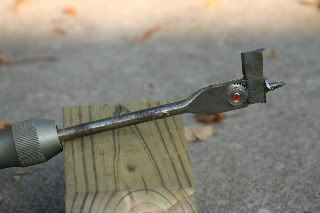 (Note that the brace and bit are leaning against a different piece of 4x4, one of two that I cut ages ago for chocks.)
Then you simply jack next to the actual OEM jack point, getting the vertical ridge into the channel of the 4x4. Once it's high enough, you slip the jack stand under the OEM point and lower the jack. Starting with the back wheels and then proceeding to the fronts, I got the whole car onto jack stands. (I was flushing out the brake lines.)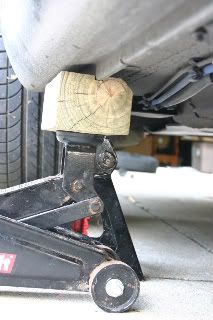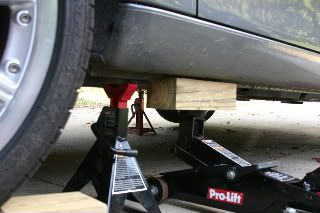 Viola! A wheel-less Boxsta:
I know people often use hockey pucks for the same purpose as the 4 x 4. I'm just more used to working with wood and, as Bobiam pointed out, the longer piece does distribute the load over a wider area.
Pretty easy. Took maybe 20 minutes of measuring and cutting.
If anyone knows of any problems with this technique, I'm all ears. But it seemed to work well for me.