Background:
When you turn the steering wheel to a sharp angle (like inside a parking lot) I get the yellow warning sign with a circle that says PSM Failure. And these are the codes that I found with the Durametric cable.
1) PSM Module: P/N 987.618.109.05
• Code 4444: Steering-angle sensor not initiated
Note: The PET didn't recognized the P/N 987.618.109.05, but when I entered the description "Steering-angle sensor" it shows that P/N 955.652.211.10 is the right one for my car (picture), but somehow it seems that the Durametric obtained a different P/N from the car computer, and perhaps this is actually be correct part number, does it make sense?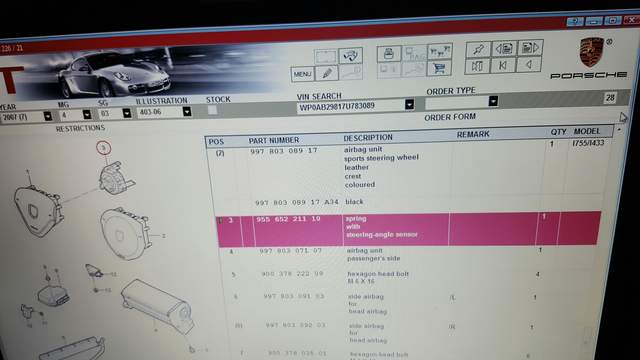 2) Airbag PO SIP Module: P/N 997.618.217.08
• Code C152: Communication PSM Module Control Unit (drive)
3) Porsche Access System PAS Module: P/N 997.618.172.12
• Code 8004: Terminal 50
4) Gateway Module: P/N 997.610.107.03
• Code C153: Communication Steering wheel electronics control unit (drive)
Before I can start replacing expensive parts I would like to know if the codes on No.2, 3, and 4 could be triggering the code 4444 on No.1
Thank you in advance for your comments!