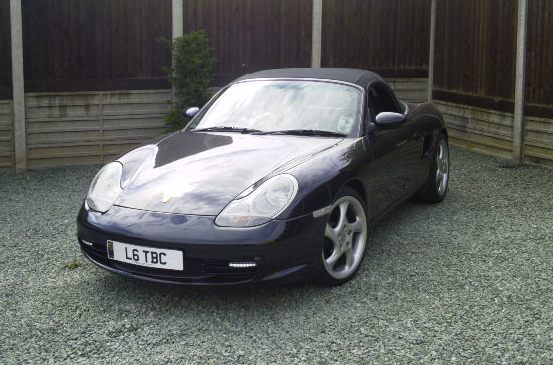 More photos in my 'garage'
Porsche 986 Boxster 2.7 [228] Tiptronic S
£7,477
Registered 01/11/2002
6 registered keepers including me
Currently 59,600 miles, believed genuine
2002 facelift model, meaning it gets luxuries like a glovebox (!), glass rear screen and the clear light lenses. You really don't want to be buying a pre-facelift car with no glovebox, a plastic rear screen that is not heated and cracks and breaks at great expense, or the ugly amber coloured lights.
• Basalt Black – metallic black, almost blue/black in the right light
• Black leather, electric memory seats
• 19" Carrera style alloys
• Litronic (xenon) headlamps
• CD Storage
• Wind deflector
• Top tinted windscreen
• Auto climate control
• Rear Parking sensors
• Porsche CDR 23 radio/CD
• LED Daytime Running Lights
• LED interior lights
• Registration number was valued by Reg Transfers Ltd at £400.
• MOT until 19/06/2012, taxed until end June.
She drives superbly and has been well pampered since I bought it last summer. I had the car inspected by a Porsche specialist before buying, who told me it was a terrific buy, but since buying, I have also carried out the following maintenance and pampered the car so that it now drives perfectly:
• SmarTrack Protector Pro tracker fitted – I paid for lifetime subscription which I believe is transferable subject to admin fee
• New remote key
• Tensioner washer leaking – fixed
• Fixed wing mirror adjustment switch
• Replaced offside rear wheel bearing
• Replaced the wind deflector fixing brackets
• Removed the aftermarket rear lights and side indicators and replaced with original Porsche lights – I also still have the aftermarket LEDS
• Replaced driver door membrane
I have spent well over £1,000 in the last 7 months getting the car to the condition it is now in.
The car is recorded Category D stolen recovered in January 2010. I did a lot of research into this when I bought the car, and I have the photos of the car after it was recovered, showing that only very superficial damage was done. In a nutshell, it was stolen when a previous owner left the keys in the ignition whilst paying at a petrol station, then recovered with only very minor damage which was professionally repaired. This has not affected the performance, handling or desirability of the car, it just means you get an absolute bargain.
The service history is not complete, at least not on paper, as the service book was not recovered after being stolen.
I do now have a replacement service book, and have managed to trace some history and now have 3 stamps in the new book. The VOSA MOT history confirms the mileage is genuine.
Stamps now in the replacement book at:
• 14/09/2006 28,299 miles TWG Sport Porsche specialist, Peterborough
• 26/10/2007 31,675 miles TWG Sport Porsche specialist, Peterborough
• 26/06/2011 53,650 miles Garage 786 BMW specialist, Leicester
This is the full factory specification:
Sales Type 986311
Model Year 2003
Block Flag
Engine Type M96/23
Gearbox Type A8605
Tire Code MICH
General information
Invoice Date 1 2002-09-23
Invoice Date 2
Number of "Z" Orders 0
Country Equipment C16 Great Britain
Trading Partner 9210000
Commission Number 558023
Body specifications
body colour LC9Z Basalt Black
convertible top colour LA10
Exterior Paint Colour Z4V9
Exterior Paint Colour
individual body colour code L
Interior specifications
Interior Trim AH
Interior Trim Leather interior in black
Interior Equipment Code LE Leather
Seat Combination Number ERZ
Seat Cushion Material LED Leather
Seat Side Support Material LE Leather
Seat Back Material LE Leather
Carpet Colour Code A10
Electrical system/electronics specifications
DME serial number 09100574
That pretty much covers everything I think, give me a call to arrange a viewing. I hope you'll understand that I will need to see your driving licence and proof of insurance if you would like to drive the car yourself.
The car is in Rugby, Warwickshire
Steve Sargent
Mobile: 07973 335168